Dolly : Then and Now
2017-06-08 03:20:06 UTC
Besides its name as the second biggest city in Indonesia, Surabaya once notorious for its "special" area, a red-light district in the heart of the city, once named as the biggest prostitution area in Southeast Asia, named Dolly. This area caused many social problems, which were really difficult to be overcame. Years gone by, but the problems still lingered on without any solutions found.
The starting point of this classical problems came from the strong commitment of the Surabaya City Government to close and reuse the area. The Surabaya City Government forbade those red-light districts to be operated in Surabaya, based on the Regional Regulation Number 7 of 1999 about the Prohibition of Using Building/Area for Immoral, also Call to do Immoral Deeds.
The strong commitment of the City Government not only based on the legal stand, but also the commitment to cut off the chain effects because of these 'dark' locations. One of the bad impacts are the condition of the children who live around the area.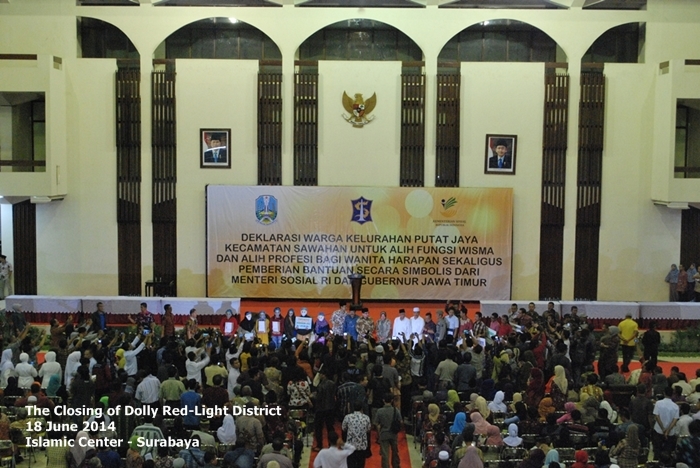 The Mayor of Surabaya, Tri Rismaharini said that the development and the future of children in those area should be in our top priority, including above the financial matter. Those children grew up and developed in an unhealthy environment for their psychological state. They are accustomed to see everything that should not be seen in their age, and it will affect the development of their characters in their future. That is why, this 'hazy' area should be closed forever. However, this idea gained many rejections, especially from those who already attached their daily life on this so-called business. They even threatened to cause some flames in Surabaya if the City Government still wanted to close the area.
Step by step, the Surabaya City Government has successfully done rehabilitation toward some red-light districts in the City of Heroes. The declaration of the closing for Dolly-Jarak was held in the Islamic Center on 18 June 2014 with the presence of the Minister of Social Affair, Salim Segaf Al-Jufri, Governor of East Java, Soekarwo, Mayor of Surabaya, Tri Rismaharini, and also people who were affected with the plan and were ready to change their profession. It was the peak point of long planning from the Surabaya City Government to erase the prostitution in Surabaya.
Today, the Surabaya City Government alongside with the Surabaya Police Department and Bicara Surabaya Community, launch the event named Dolly Saiki (Dolly Nowadays). This event aims to re-brand the area of Dolly, from hazy place into a bright and friendly place which can be visited as one of the tourism objects in Surabaya.